Upcycle old records into beautiful flowers




* This post may contain affiliate links

We found a bunch of old records at a garage sale for about 25 cents a piece so I picked up a few knowing there was something I could upcycle them into. For this DIY - I made flowers!

What you need:

2 old records/albums (don't use 45's - they don't have enough material to bend)
metal bowls in smaller sizes

hot pads or towel to protect hands from hot records
1/2" pvc pipe - about 3' long

a screw and a washer to attach flower to your pvc pipe
spray paint for plastic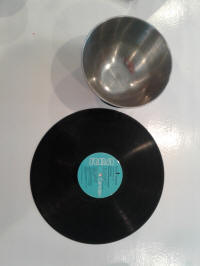 Place your bowl in the oven upside down and turn your oven to 200*F. Put your record on top of the bowl inside your oven. Depending on the heat of your oven it will take about 3-5 minutes for your record to heat up and become flexible.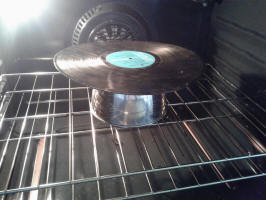 Once your record has completely softened and fallen down around your bowl, carefully remove your record and bowl with some hot pads so you don't burn your hands.

You're going to have to work rather quickly and it's ok if you mess up, you can always reheat your record again.

Flip over your record and begin to shape your first record. This will be your outter flower layer. Keep this first record more "flat" in the middle and the bends in your record closer to the edge of the record so that you can still fit another melted record inside of this one.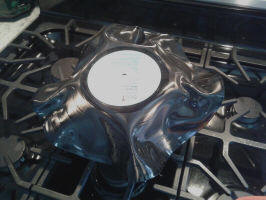 Repeat the same process for a second record - this will be the inner part of your flower. When you shape this record, make your "walls" come up a little bit more so that this record will fit inside of the previous record to give your flower some more dimension. It may take a few tries before you get it right. Just reheat the record back up and try again!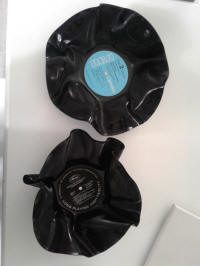 Once your flowers have cooled, stack one inside the other to make sure they fit nicely. If you are happy with your record shapes you are ready to paint them. If not, remelt your records until you are happy with how they look.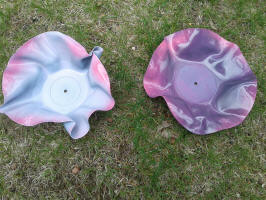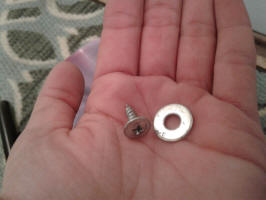 Spray paint
your flowers however you like.

Take a little screw and a washer and attach your records to your pvc pipe.

I gave my pipe a coat of black spray paint first to make it look a little nicer, but you can do yours however you want.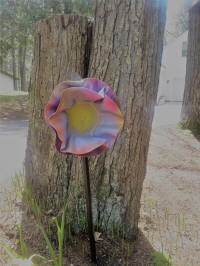 Then stake your pipe into the ground and show off your flower!

Want more record projects? Check out our record bookends, an office organizer and a bird feeder!


do it yourself
Want more DIY's?