Upcycle old records into a bird feeder




* This post may contain affiliate links

We came across a bunch of old record albums that no longer worked and instead of tossing them I decided to upcycle them - into bird feeders! We also made record flowers to which you can check out here.

You will need:

old albums
small metal bowls

chains for hanging
acrylic paint
acrylic spray sealer

drill and drill bit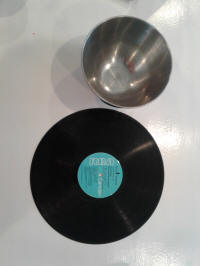 Start by painting your design on your record. I used my acrylic paints and painted a few records a few different ways. The kids really enjoyed this project because it was something they could do.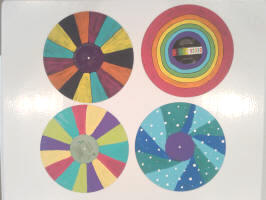 Once your record has dried it's time to heat it up. Heat your oven to 200*F and set your bowl inside the oven. Rest your record, painted side up, on the middle of your bowl.



Let your album sit inside your oven for about 3-5 minutes or until the album starts to completely fold down around the bowl. (I guess I didn't have a picture of that part, but this is how it will rest on your bowl in the oven).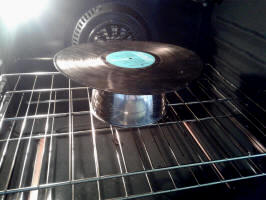 Using your hot pads, remove the record and/or bowl from the oven and begin to mold the record into a bowl type shape. This may take a few tries as you get used to how to hold and shape the record as it can start to cool down and harden rather quickly. If it hardens too fast for you, just put it back in the oven, reheat and try again until it's shaped how you like it.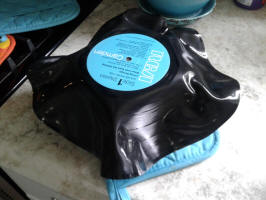 Once it has cooled, you need to drill holes for your chains to attach. You can attach chains however you would like. I had chains left from a dollar store hanging basket, so I drilled 3 holes into my record bowl and swapped the chains from the basket to my record.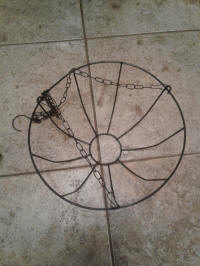 Then spray the outside of your record with an acrylic sealer to help protect the paint job. once that has dried you are ready to attach your chains and hang it up.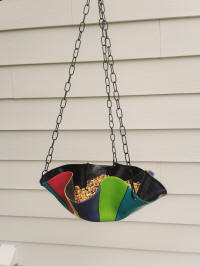 Now, all albums have the hole in the middle, which is perfect for draining water. If you plan to use smaller seeds for your feeder, you can take a little hot glue and run it around the hole to make it a bit smaller or you can completely seal that hole and use a tiny drill bit to drill more holes. It's entirely up to you.

Then hang up your feeder and wait for your new friends to arrive!


do it yourself
Want more DIY's?