Pokemon lighted headboard picture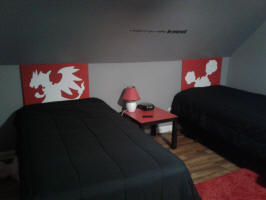 * This post may contain affiliate links.

My 2 boys are OBSESSED with Pokemon. Obsessed! So anytime I am crafting they are looking for a craft that can be turned into anything Pokemon.

So when we were redecorating their room they wanted to add a little Pokemon to it without putting up posters, getting new bedspreads and buying some crazy expensive decor.

I had just finished these lighted canvas pictures when we realized we could use that same idea, but with a Pokemon theme.

Their bedrooms are upstairs and they have slanted ceilings. With the layout of the room and where their beds needed to go, we weren't able to use their previous headboards so we just never had headboards on their beds.

So we decided to give them "headboards" with a canvas picture. But to jazz it up a bit we added lights!

What you need:

a blank 24X30 stretched canvas -

I bought this 2 pack for a better deal

acrylic paint
lights
duct tape & pencil
And if you are not good at a freehand drawing, you will need to print off an image and trace the outline onto transparent paper and then use a projector to transfer the image onto your canvas.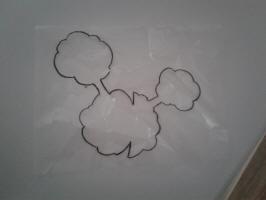 First, draw your image onto your canvas. If you are using a projector like I did, print off your image and then trace the outline with a permanent marker onto some transparency paper (or saran wrap works or if you have some of those clear page protectors, cut one in half and use one half).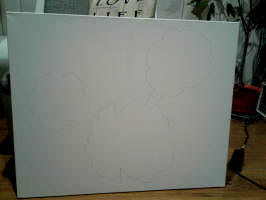 Once you have your outline drawn on it, paint the outside area of your image. Give it a good 2-3 coats of paint, letting it dry in between.




Once you have our picture painted it's time to add the lights. Leave out enough length so that you can plug your lights into your closest outlet. Then I just arranged my lights behind my canvas and used duct tape to hold the lights in place. Place your tape onto the wood parts of your canvas frame, it doesn't stick real good on the canvas itself.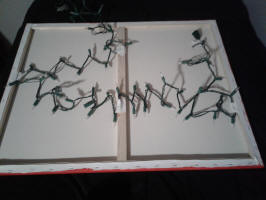 Then hang it up and plug it in.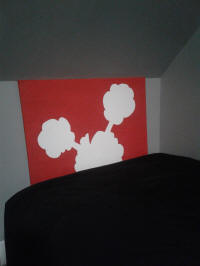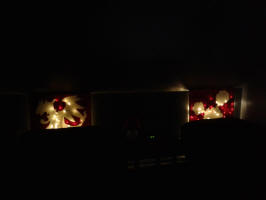 My boys LOVE it! They love seeing their favorite Pokemon during the day, but when they want to add a little bit of light in their rooms they can easily plug them in.