Lighted canvas picture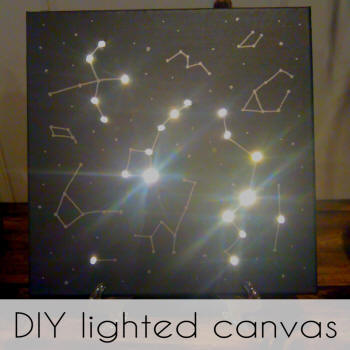 * This post may contain affiliate links.

I've seen so many different Christmas versions of these lighted canvas pictures, but I wanted one I could keep up all year long. I love having different lights or lamps around the house and something like this was perfect.

Our house is decorated in a coastal theme so I thought a little constellation picture would blend in perfectly with the decor.



What you need:

string of battery operated lights
a canvas -

I got a pack of 12x12

hot glue gun
acrylic paints
something sharp to poke the holes (I used my candy thermometer! lol)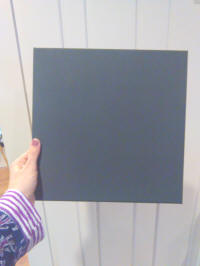 Start by painting your canvas. While it is drying, decide on your layout or design. I didn't trust my "free hand" abilities, so I made a little template with paper and drew out my design on that first.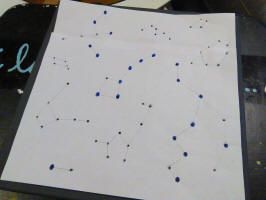 Then I poked a hole in the paper for each "star". I placed my template on top of my canvas and used a pencil to mark each spot. You may notice the bigger dots on my template. Those were the stars that will get the lights. I had a strand of 20 lights, so I had to make sure I had exactly 20 stars and I wanted to make sure they were spaced out nice.

Use your knife or candy thermometer (lol) to poke holes into the canvas where you want the lights to go.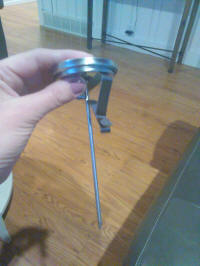 Once you have all your holes and dots on the canvas you can paint on your stars that will not be lights.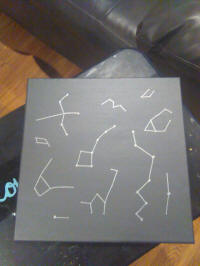 When your canvas is completely painted it's time to add the lights! Starting at the bottom of your canvas, because you want the battery pack to sit on the table and not dangle from the top, put some glue around each hole and then poke your light through. Give it a few seconds for the glue to dry around the light and then continue on until you have all the lights in place.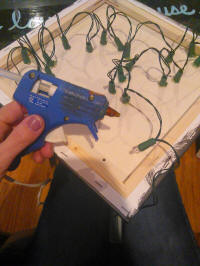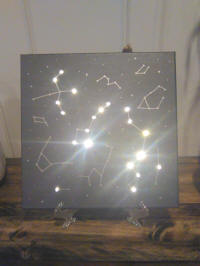 Then turn it on and admire your work!

These would make great gifts too. You could make shapes, spell words, anything you can imagine. So when you go buy your canvas - make sure you grab more than one!
do it yourself
Want more DIY's?