DIY driftwood orb




* This post may contain affiliate links

Living near the beach means that the kids bring a lot of "treasures" home. I love crafting up decor with fun nature things I find and I apparently have passed that on to my children. I must have drove my parents nuts when I was little!



One of the things they like to collect is driftwood so we usually have a pile of it in our garage. We made a driftwood spinner and a wreath for our front door, but I needed to use up the rest of the driftwood pile so we made this driftwood orb!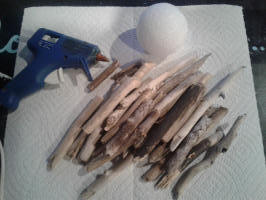 What you need:

assortment of driftwood

a styrofoam ball
hot glue gun and glue


Start by finding the middle of your styrofoam ball and pushing the driftwood, with a bit of hot glue on the end, into the middle of the ball all the way around. By starting in the middle you will help to keep your driftwood to stick straight out from the middle. Add some glue around the base of the driftwood where it goes into the styrofoam to help keep it in place.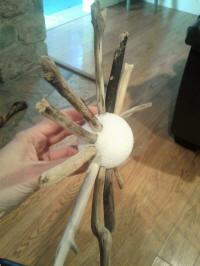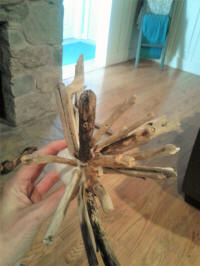 After I did the entire middle of the circle I went to the opposite side and attached a piece of driftwood straight out from that side. I then worked my way around gluing in all of the driftwood pieces until one side was completely filled in. As you are adding your driftwood, make sure that each piece is sticking straight out from the ball and not at an angle. Add extra hot glue as you go along to keep them in place.



Below you can see one side is completely done. Now it's time to work on the other side. Start by again, putting a piece of driftwood on the opposite end (or now what looks like the bottom) and then begin filling in the other side keeping sure that each piece of driftwood sticks straight out of the ball.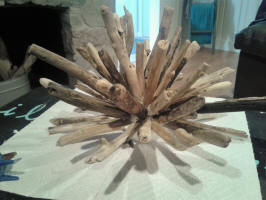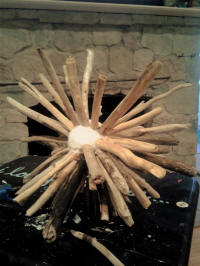 Keeping working your way around, pushing in the driftwood and keeping it secure with the hot glue. As you get all of the styrofoam filled up you may notice spots that seem bare. Just add a big drop of hot glue and glue a piece of driftwood to another piece of driftwood to fill in holes. Turn your orb around looking for bare spots and filling them in.

Once it is all filled in it will be a big ball of driftwood and will make a fabulous statement piece!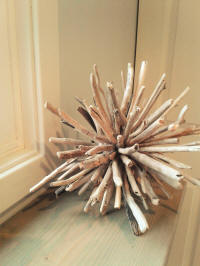 do it yourself
Want more DIY's?