DIY wood pilings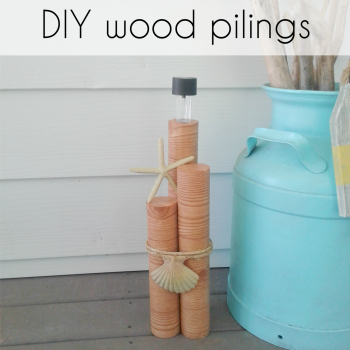 * This post may contain affiliate links

We decorate all over our house with a beach or coastal theme. We have oars, we have bouys and we have plenty of seashells. But the one thing I needed was wood pilings! But I wanted them more as decor, not for outside in the yard. And let me tell you, these are perfect. They are lightweight and won't scratch up a table and they are so easy to make.

What you'll need:

a pool noodle
wood grain contact paper

hot glue gun and glue
E6000

decor for it (solar light, seashells, birds, a welcome sign, etc)
utility knife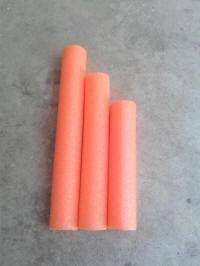 Start by taking your utility knife and cutting your pool noodles to length. Pool noodles come in different lengths, but I cut my noodle from the dollar store into 3 pieces: 11", 14" and 17" and that took up the entire noodle.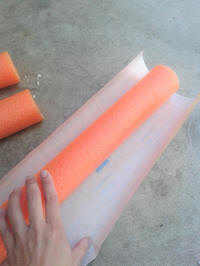 Take out your contact paper and measure a piece to fit on each pool noodle and then cut it to size. I cut my pieces of contact paper about an inch or so longer so that it would overlap and stick down nicely. Also cut 3 circles the side of the end of the pool noodle so that you have a wood top for each noodle. When you have all of your pieces cut out, you can stick them to your noodle in place and add some glue along the edges.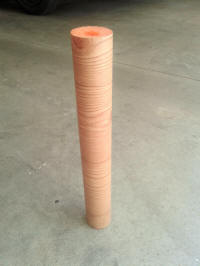 I stuck the contact paper down and it stuck to the noodle pretty good, though I did add a bit of E600 glue to the edges to make sure it would stay tight. Do not use hot glue on your pool noodle, it will ruin the noodle. Ask me how I know....but I just love my glue gun!



If you plan to put a solar light in yours, the cheap ones from Walmart or the dollar store fit perfectly inside the hole of the pool noodle. Take one of your circle shapes and cut out a hole on the inside so that you can put your light through the contact paper and then stick it to the noodle. Once you have it in place, add some E6000 glue and glue it in place.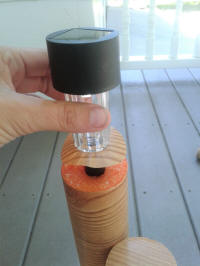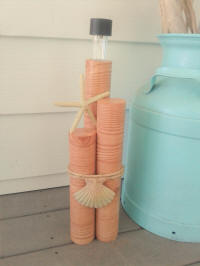 Then all that is left to do is add your decor. First I took my twine rope and wrapped it around my wood pilings to keep them together. I used hot glue to keep the twine stuck to the noodle as well as keeping the twin stuck to each other. I had large seashells leftover from another project, so I glued them onto my wood pilings.


do it yourself
Want more DIY's?