DIY wooden bouys beach decor




* This post may contain affiliate links

I love decorating around our house with all sorts of beach decor items. I've made a driftwood orb, seashell earrings and my favorite - my mermaid sign.

I wanted something new. So I browsed pinterest for some beach decor ideas and saw people decorating with bouys and I realized I had none!

What you'll need:

some wood (I used leftover plywood that I had)
a

jigsaw
(I am addicted to this thing lately!)
some acrylic paint
jute rope
for hanging your bouys
a drill and bit for making the hole in the top of your bouys
sandpaper



Start by drawing out your bouy on your wood. I just used a yardstick to make the straight lines. When you have your bouy drawn out you are ready to cut it out with your jigsaw
. I cut out one bouy and then traced the shape onto my wood and then cut out my second one. It was much easier for me to make them the same size this way - I'm not usually very good with numbers and measuring ;)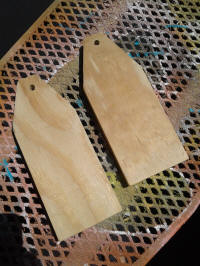 When you have them both cut out you can add your hole in the top. Double check to make sure your hole is large enough to fit your rope through.

Once you have all your cutting and drilling done, give them a good sanding around all of the sides to make sure your wooden bouys will be nice and smooth.



When your sanding is done you are ready to paint it. You can choose any color or leave them with the wood look, but I wanted mine to look more like a driftwood/old wood board so I used gray and white paint. I dropped a few spots of both paint colors on to the top of each bouy and then with a wet paint brush, I painted both of the colors at the same time. It worked perfectly! The colors blended together nicely giving a nice dimension to the wood.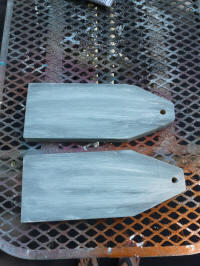 Let that paint coat dry completely and then you can add more colors if you would like. I taped a section off in the middle of each bouy with painters tape and then painted the inside. Instead of doing this, you could also add stickers with letters or number (your address maybe?) and then paint over the stickers so the numbers show your base color.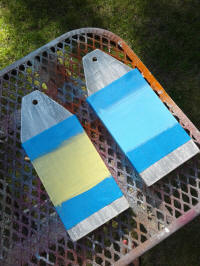 When everything has dried, I took my sandpaper and lightly sanded over the top of each bouy. I did more sanding on the gray areas to give it more of a wooden look. I was SO happy with how they looked after the sanding - very authentic looking!

Once you are happy with your bouys, you are ready to add your jute rope
and then hang them up!


do it yourself
Want more DIY's?