White washing your fireplace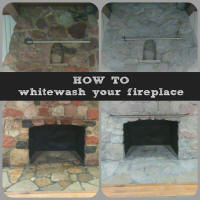 * This post may contain affiliate links.

Let me just start you off with that before and after! Isn't that unbelievable?! What a difference that has made in the entire look and feel of our living room and home. I was so scared to do it, but boy am I glad I went for it.

When we first moved in I loved the fireplace. As we started painting and decorating I started to hate the fireplace. It just wasn't "right". I couldn't tell what I didn't like, but it was driving me crazy.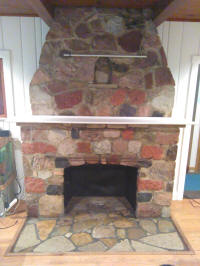 After I saw my sister-in-law completely transform her fireplace I knew that was exactly what my fireplace needed. However, she had a brick fireplace where mine is stone so that made me a bit nervous, but at this point, something needed to change!

Here's what you need:

any shade of white interior house paint
water
old bowl for your mixture
paint brush
an old towel you can throw away

Start off by cleaning your fireplace a bit. I used a damp towel and wiped down the whole thing to get rid of dust, dirt and any loose junk.

Make up your paint mixture. I used a 50/50 mix of my paint and water. If you want more of the stone to show through use a bit more water. If you want it more of a painted look add a bit more paint. If you aren't sure, add a bit more water - you can always do another coat.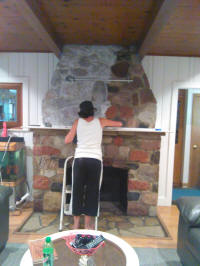 You will want to start at the top of your fireplace. Your mixture will be very runny and will drip down. I worked in smaller sections at a time so I felt like I had more control of the paint mixture. I brushed on a 3' x 3' section at a time.

Brush on your paint, then grab your old towel and wipe over all of it. This will help to rub the paint in a bit as well as to rub off all of the excess paint. Continue doing this the entire way across your fireplace and then entire way down.

Once you have it all done, let it dry for a bit and then see how it's drying. I had stones that were darker and needed another coat to whiten it a bit more. I also had stones that were very smooth and needed another coat as well.

I suggest letting it dry for a few hours or overnight. When you walk back in the room, pick your jaw up off the floor and then look it all over. If you still want to add more paint to spots you can add more paint here and there. You can also add more paint to areas just to give it more dimension if that's a look you are going for.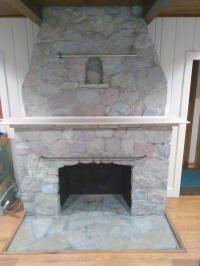 It still amazes me how much of a difference painting our fireplace did for the overall look of the room and feel of the home. It gives it a much more clean and soft look - I'm soooo glad I did it!