DIY repurposed shutter into a command center




* This post may contain affiliate links.

Got any old shutters laying around? Even if you don't you can usually pick them up at a garage sale or your local habitat for humanity restore location for a few bucks.

Repurpose that old shutter with a little bit of spray paint and some posterboard into a beautiful display board / message center or for anything else you want to display!

What you need:

a shutter
spray paint for plastic - I used this paint

posterboard
E6000 glue



First, spray paint your shutter whichever color you choose.

I used this kind of paint
on my plastic shutter to make sure that the paint stuck good to the shutter.

Once your paint is dry, flip your shutter over so you can see the back of it. I measure out the area where the slots are and cut poster board to fit over the slots. With the poster board on the back it will make sure that your notes, pictures or whatever else you put in your shutter will not fall through.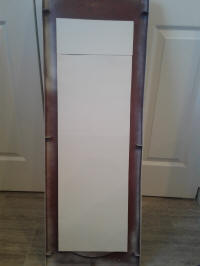 When you have your posterboard cut to size, glue it down to the back of the shutter. I put a bit of glue one every few slats and around the edge so it was attached good.

I also attached small cup hooks to the bottom of my shutter (they are impossible to see) so that I could hang things on it like keys, a small plant, etc.




Let it dry and then hang it up. It works perfectly to display cards, notes, pictures and postcards!


do it yourself
Want more DIY's?