UGLY CHAIR MAKEOVER




* This post may contain affiliate links.

I picked up these not so pretty chairs for free off of craigslist. I was so excited - you can always use more chairs right?

Fortunately they were sturdy. But they were in baaaaad shape. All the black paint was chipping, the chairs looked like they may have been painted before, they definitely needed some help.This makeover was simple.



You will need:

steel wool
garbage bags (1 per chair)
tarps/old sheets/cardboard - something to paint your chairs on


Ultra coverage spray paint


Each chair took about half a can of spray paint. Make sure you also get spray paint that is suitable for painting plastic so that it adheres good.

I took some steel wool and rubbed down all the metal to get all the chipping paint off. Then, I covered the seats with a garbage bag. I tucked all the ends in around the metal so that only the metal was showing. It looked sort of sloppy underneath, but who looks at that anyway?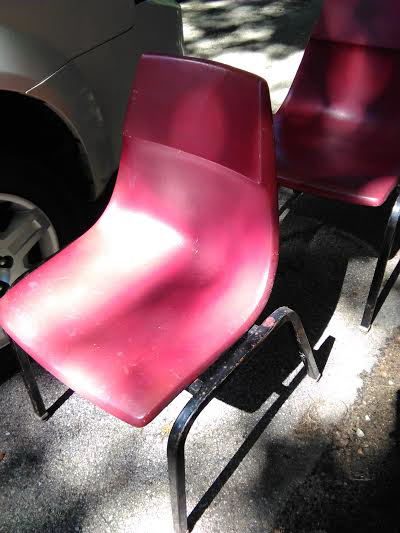 Then spray paint the metal.

Once the metal was dry (I waited 2 hours just in case, but it was the middle of summer) I put my garbage bags over the metal part and spray painted the seats.



Then spray paint the seats.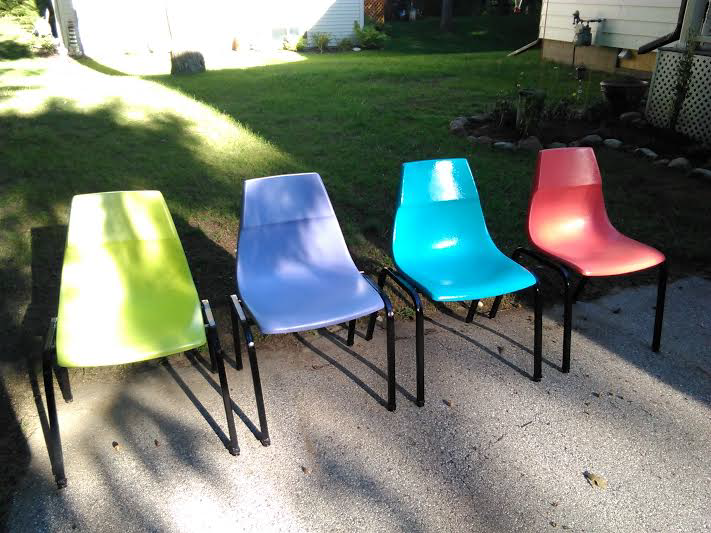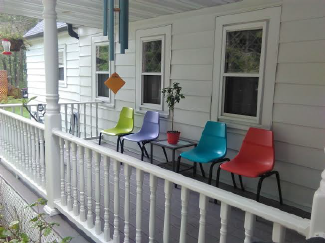 Wait for them to dry and enjoy!



I think they are the perfect addition to my long front porch. It gives the white house a pop of color and is definitely a great place to enjoy a drink and watch the neighborhood :)
do it yourself
Want more DIY's?