DIY tie dyed canvas shoes




* This post may contain affiliate links.

These are soooo much fun! My daughter's jaw dropped when I showed her what I had made for her.

The best part about these is they can be made in any color or any design you want. My next pair is going to be for me and it's going to be in green and gold for my Packers!



You will need:

assortment of permanent markers
canvas shoes

rubbing alcohol
an eye dropper or syringe





Decide on what colors you want to use and what type of design you want it to look like.

Once you've settled on your design, just start drawing it in. You do not have to completely color it in, scribbling is just fine.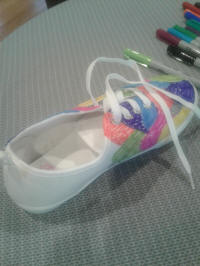 When your shoes are completely color it's time to get out the alcohol. Hey, it was hard work - you need a break! ;)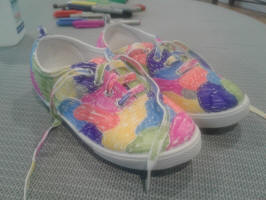 Ok, now get the rubbing alcohol out. Before you start with the alcohol, make sure you are working over top some newspaper just in case you spill. Remember, you are working with permanent markers.



Starting at the top of the shoe, just work your way around squeezing out drops of alcohol onto the shoe to make the colors run and blend together. You want enough alcohol to get it to blend, but not too much that it soaks all through the shoes and down off the bottom of the shoes. Also be careful not to let the alcohol drip down onto the rubber bottoms of the shoes - it will stain on the rubber and not come off.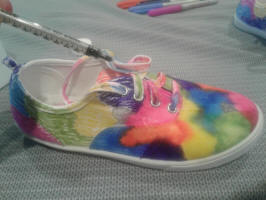 Let your shoes dry completely before you wear them.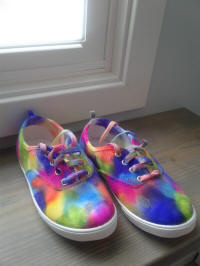 Caution: If you used too much alcohol and the color soaked through to the inside of your shoes your socks and feet may take on the stain from the markers. I also wouldn't recommend wearing them in rainy/wet weather as the color could start to run more.

But for about $5, you will definitely get your money's worth!


do it yourself
Want more DIY's?