DIY beach themed stepping stones




* This post may contain affiliate links

Living near Lake Michigan and having kids means that we always have a good assortment of rocks around our house. Our pail was getting rather full, so it was time to find a way to use up some of them and this DIY was perfect.

We don't get seashells like the ocean, but we do get a lot of nice, smooth rocks and they come in a variety of colors and stepping stones were the perfect way to use them up.



You will need:

a bag of quikrete

assortment of rocks
clear plant saucers

old container for mixing your concrete in

Start by getting all your stones, sea glass, driftwood or whatever else you want to use laid out and ready. Then begin mixing up a batch of your quikrete according to the directions on the package and how many stepping stones you plan to make. For making your quikrete, all you will need to add is water.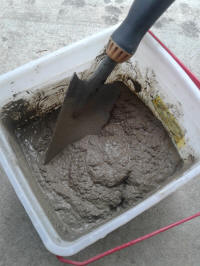 Once you have quikrete at the right consistency, fill your saucer all the way up to the top. When it is full, tap around all the edges good to release the air bubbles trapped inside. Then start making your designs by pressing your stones into the concrete a bit. Make sure you are pressing your stones a bit into the concrete so that when it dries they will still be stuck inside. Work rather quickly before your concrete starts to harden.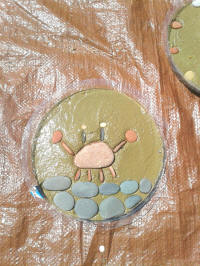 Wait *patiently* for them to dry. Mine took almost 2 days, but it was a very humid day here so I'm sure that accounted for the longer drying time.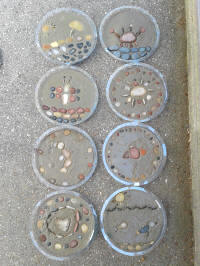 do it yourself
Want more DIY's?