DIY sifter (for seashells, shark teeth, seaglass, fossils and more!)




* This post may contain affiliate links

When we took our first trip down to the Gulf of Mexico, we visited some of our family near Manasota Key where it's popular to hunt for shark teeth. My aunt had this fantastic sifter that she used to dig into the sand a bit, pull it all up and sort through it all looking for the shark teeth. It was awesome!

Living near the beach here, we love looking for seaglass, fossils and neat stones, so one of those would work for us. We found one at a local store in Florida, but they wanted $30 for it. What?! I knew we could DIY one. And we did. We made 3 for about $10.

What you'll need:

pool noodle (or 2 depending on size of your sifter)
1/4" wire mesh

wire cutter
PVC pipe cutter

1/2" x 10' pvc pipe
(4) 1/2" 90 degree pvc elbows
zip ties
(about 20 per sifter and at least 8" long)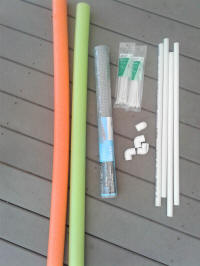 Start by deciding on a size for your sifter and drawing out your marks. I cut my sides to 15" x 18", but you can do any size you wish. Mine is a great size for preteen to adult, so if you want to make one for smaller kids you may want it a bit smaller.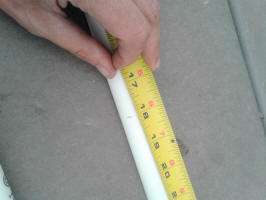 Once you have your marks, take your pvc pipe cutter
and cut your pipes to size. Once you have your pipes cut, assemble the base of your sifter by attaching your pvc elbows to your cut pipes.

When you have your base assembled, lay out your wire mesh underneath your frame. You need to measure out your mesh so that it is just a tad bit wider than your frame so that the mesh will go completely under and a bit up the side of your pipe. Use your wire cutters to cut your mesh to size.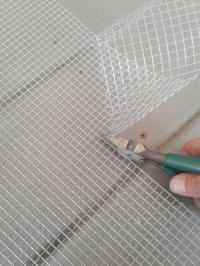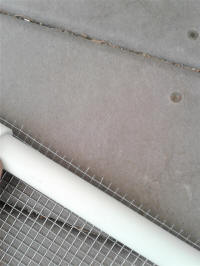 Once your mesh is cut, use your zip ties to attach it to the bottom of your frame. I used 3 zip ties
for the longer sides and 2 for the shorter sides.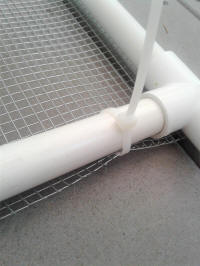 Next, re-measure each side (they will be longer now with your elbows attached) and cut your pool noodles to fit each side. Once you have a noodle cut for each side, slice each noodle piece down the middle with a utility knife then slip the noodle overtop the pvc pipe.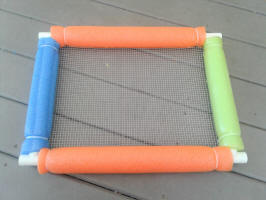 When all your noodle pieces are attached, use zip ties
to attach the the pool noodle to the frame and cut the long ends off.

* And if you're wondering why mine may look a bit different. My kids each wanted one and I didn't have enough elbows, but had T's, so the one pictured above used the T's instead of elbows so you see extra pvc sticking out the sides.

Then head to the beach and look for treasures! On my daughters first dip into the sand she pulled up a piece of brown seaglass! Success!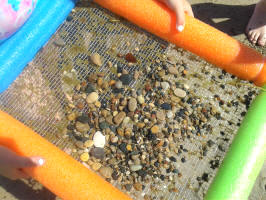 do it yourself
Want more DIY's?