Seashell earring studs

Is it pretty obvious yet that we love seashells around here? I love crafting with seashells, but when my parents brought home some tiny little shells from their recent trip to Florida I knew exactly what I wanted to do with them. Make earrings!




* This post may contain affiliate links.

You will need:

4mm earring post blanks with backs
tiny seashells

super glue







If you aren't close to the beach or don't have any tiny shells, I did see some for sale at my local Hobby Lobby. You could get a small bag of them for about $2.

Go through your shells and try to find 2 that are close in size. This was the hardest part. They all looked tiny, but trying to find two twins was pretty hard.



Then all you are going to do is glue the shell to the post. I put a good amount of glue on the post of the earring and then positioned my shell on top. I glued it on where the shell opening was, but near to the top where it had more shell to attach to the post.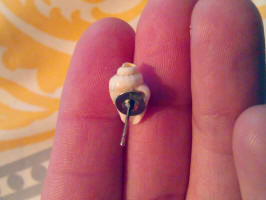 Let them dry. I let them dry overnight just to be sure they were completely dry. Once they are dry you can wear them. Time for a trip to the beach!


do it yourself
Want more DIY's?