DIY seashell earrings


I've been on a seashell kick lately. Mostly because it is winter here in WI and I'd give just about anything for some warmth, a beach and some seashells. So instead I am left to dream and craft - with seashells!
* This post may contain affiliate links.

What you need:

seashells

2 jump rings
2 earring hooks
drill and a small (1/32") drill bit


Piece of junk wood for drilling onFirst, practice drilling a few holes through your spare seashell. You want to get the feel of the pressure needed to drill the hole, but not crack the shell. You also want to use the smallest drill bit you can find to make the smallest hole in your shell. Feeling good with the drill? Alright, let's go!



Choose where you want the hole to go on your shell and mark the spot with a small dot. This way when the drill bit slips a bit you know right where you want the hole.

Drill your hole through each shell.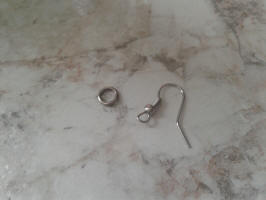 Put your jump ring through the hole and then attach your earring hook to the jump ring.

Now put them in and head to the beach!


do it yourself
Want more DIY's?