Beach inspired sand pumpkin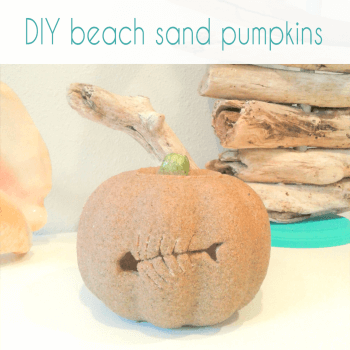 * This post may contain affiliate links

Living near the beach I have a lot of decor that is inspired by the water, so when it's time to decorate for the holidays I try to incoporate the holidays into the beach decor. For Christmas I decorate with mostly white and teal and for fall I love to decorate with more of a blue, maroon/pink and burlap theme. This way I don't have to change all my beachy decor (teals, grays & coral colors) when the holidays roll around.

Fall is always the trickiest. I don't like the traditional fall colors of brown, red and especially orange. Unfortunately, pumpkins always seem to come in the color of orange ;)

Until today! I absolutely LOVE this DIY. It is so easy and so cheap and I can use them for fall and for halloween! BONUS!!

What you'll need:

carveable pumpkins

a knife or creative versa tool
mod podge

sand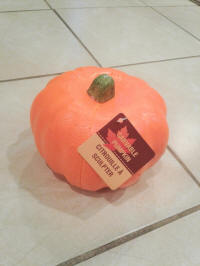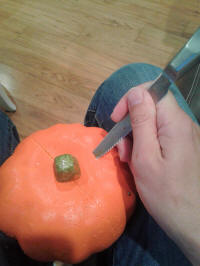 This is my carveable pumpkin I found at our local dollar store. If you're thinking about making this craft in the future, grab a few from the dollar store, I've seen them sell out many times.



Start by cutting the top off of your pumpkin. I used an old steak knife turned crafting knife to cut mine and it worked great. You can also use a creative versa tool
to do all the cutting for you. It works perfectly for something like this and is much quicker and makes no mess compared to all the cutting ;)

Then you'll need to print off an image that you want to carve into your pumpkin. I picked these adorable fish bones and printed them off in a wallet size to fit perfectly on my pumpkin. Tape your image onto your pumpkin and with a thumb tack (or needle, nail, etc) poke a hole into your pumpkin following the outline of your image where you want to carve. When you are all done, you should be able to see your image on your pumpkin.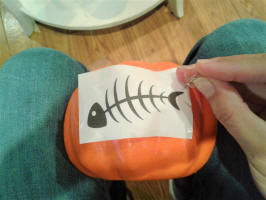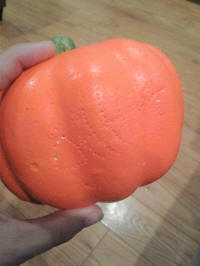 Then, using your creative tool or steak knife turned craft knife carve out your image. I started with my creative versa tool
, but since my image had so many thin lines I found it easier to use my knife to carve out my image. Do whichever works best for you!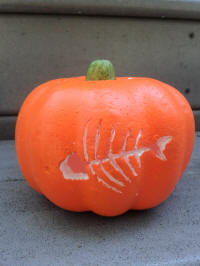 Then it's time to add your sand to your pumpkin. Apply a layer of mod podge
and then sprinkle the sand over top. Once that layer has dried pretty good, do another layer of mod podge and then sand.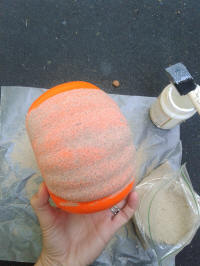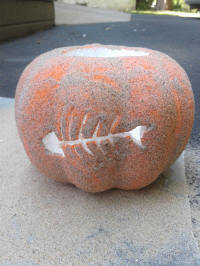 After that layer has mostly dried, add a good layer of just mod podge
over the top of the sand to help seal the sand so that it won't fall off everywhere inside your home.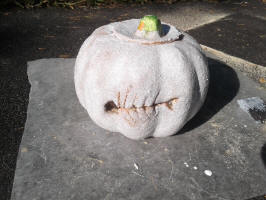 Once the mod podge has completely dried you are ready to display them! Add a battery operated tea light to the inside and your pumpkin wil glow at night. Best part?! They don't go rotten :)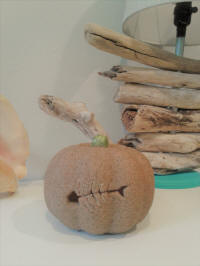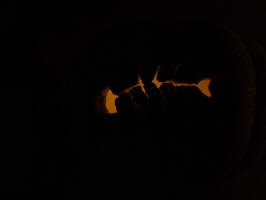 do it yourself
Want more DIY's?