Repurposed shovel into porch decor




* This post may contain affiliate links.

Got an old, rusty shovel laying around? Or just an extra one that no one will notice went missing? ;)

Take that ugly old shovel and turn it into beautiful decor for your front porch. And all you need is paint!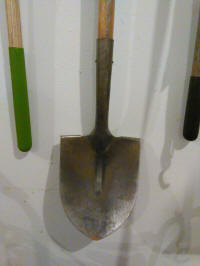 First, wipe down your shovel with an old, damp towel to remove all the dirt and anything else that was left on the shovel. You want to make sure that you have removed anything loose. If your shovel is rusty, you may want to rub some steel wool on it to get off any loose or chipped paint.



Then grab out your acrylic paints and start painting! I have a love of penguins, so I knew exactly what I wanted to paint my shovel like.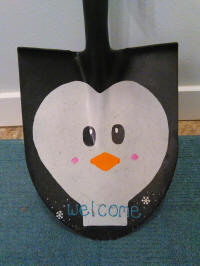 The possibilities for your shovel are endless!
You can make a welcome sign, decorate it for a season, paint it for a certain holiday, write your family name on it, give it as a gift to someone and write their name on it, the list goes on and on.



Once you have your shovel painted, spray the entire metal part where you've painted with an acrylic sealer. This is going to help protect your paint from the outdoor elements.

I also added a cute little bow to my shovel with left over burlap ribbon from a previous project.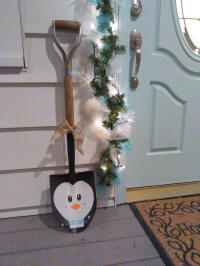 When your shovel is good and dry you can put it out on display. Isn't that the perfect way to welcome all of your visitors?!


do it yourself
Want more DIY's?