Repurposed floor lamp into a plant stand




* This post may contain affiliate links.

I had a pair of floor lamps that I'd had for 15+ years. They moved along with us to every house we lived in and always found a spot to sit even though they were never used. I mean, you hate to just get rid of a nice floor lamp right?

After being painted many times and always getting a new lamp shade, it was time for them to move out.



Of course by move out I mean out of their spot in the living room - I still can't just toss them!

So I started taking them apart with plans to save the fixture and wiring to make a new lamp.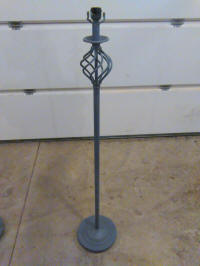 But the stand.....what could I repurpose that into? Well a plant stand of course!

I love all of my plants and this was going to be the perfect way to display one, but mostly to keep it off the floor and tables, they all have plants already on them.

I already had the stand painted the color I wanted it, but this would be the time to do that. I also stopped at the dollar store and grabbed a real cheap pot. If you don't like the color you can also spray paint the outside of the pot.






In order to balance my pot on top of my stand, I punched out a hole in the bottom of my pot that was the same size as the hole in the top of the stand where the wires had come through. I just found any sort of dowel or rod that was the same size that I could fit into that hole to kkeep the pot on top of the stand a little bit more sturdy. I can't really help you much on that part since all lamps and pots will be different. If the base on your stand is a bit wider you can maybe get away without having something in there, but with kids and dogs in my house, I didn't want to take that chance.

Once you have the pot in place, fill it with dirt and your plant and tada!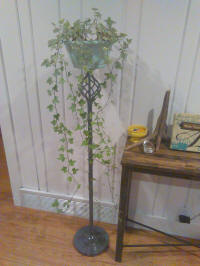 do it yourself
Want more DIY's?