Refresh your old worn out chairs




* This post may contain affiliate links

I found these ugly wooden chairs at a local thrift store for $5. They were pretty nasty, but they were still good and sturdy so I knew I could give them a new look.

What you'll need:

batting
for your seat cushioning
material large enough to cover the seat
staple gun
and staples
spray paint in your color choice



We left the thrift store and headed to walmart to grab some batting, material and a spray paint color to match our material. These chairs were going in our living room and this pattern was perfect for brightening up the room a bit!

Start by removing the screws from the underside of the seat. We then spray painted our chairs and let them dry while we worked on the new seat cover.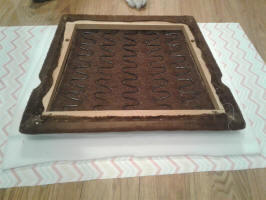 Lay our your chair seat and cut your cushioning and material for your seat. You want to cut all your materials large enough so that they will go over the top of the seat, around the edges and about an inch on the underside.




Position your seat on top of your batting and material upside down. Make sure your material is centered and lined up how you would like it. Once it is you are ready to begin stapling it to your chair. Start in the center of one of the sides and using your staple gun
, secure it in place.



Then, keeping the material snug, continue to staple one entire side. When that side is finished, do the opposite side so that the material is pulled tightly across the seat of the chair. To do the corners, fold the material over itself to make a nice pleat on the corners. Then continue on stapling the rest of the sides.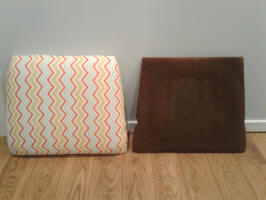 Once it is all stapled on you can trim off the excess batting and material. Then using the same screws, reattach your seat to your chair if it has dried completely.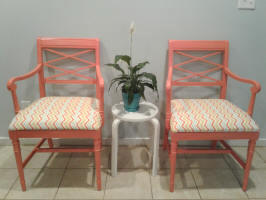 do it yourself
Want more DIY's?