Painting the front door can give your home a complete makeover


* This post may contain affiliate links.


Have you ever considered painting your front door? What a dramatic difference it can make. It seems to be one of those things we think about, but never do. I say "do it!!"

When we bought this house, the previous owners had painted the door. It was.....well.....yuck! But that seemed to be their style of decorating. After we closed on the house we started to clean it up. The entire outside had to be pressure washed and in a few hours it went from a dull gray to a beautiful white. It was amazing! And that's when we noticed the door. It just wasn't right.


Before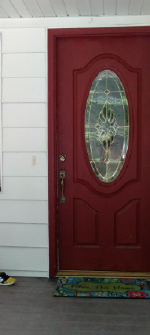 So I stopped by the store to grab a few paint samples to narrow down my selection. Wow....what a tough decision.You don't have to pick the most expensive brand. I went with the most expensive Behr paint (I got suckered in by sales lady who said this paint would be perfect for any door and over any paint since I didn't know what I was dealing with). It was awful. The paint rubbed off everytime I washed it and then eventually would just peel. I have 2 newfoundlands who drool A LOT. I wipe walls and doors A LOT, and every time I washed the door I'm left with a pink washcloth. I was so disappointed. So I had a very similar color mixed up in my favorite Glidden brand and it went on perfectly.
When painting, use a good brush. Seriously, spend a few extra bucks and buy the Presa Premium Paint Brush Set
- it'll make a huge difference especially when doing a paneled door.

I started at the top and worked down. Do the inside grooves first and then the flat areas around the grooves with either a brush or roller. Keep working at a good speed from top to bottom so that it's drying evenly.

Consider doing the inside of the door too! I'm glad I did.....it really gives the front entrance a pop of color.


After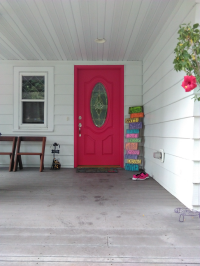 Before & after




** And now, 1 year later, it still wasn't "right". I did love the color a lot, but I with the house being completely transformed I wanted a different look. Once you walk in to the house it has a beachy feel to it - mostly white, gray and shades of blue so I wanted the door to blend with the inside as well.

So one more paint job and here we are now!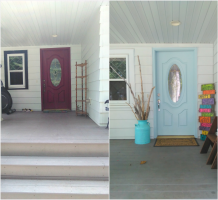 You may notice too, that we had painted the window trim from black to white. That really helped to make the white house look much cleaner and brighter and then when the door was painted the blue color, it really gave it the beachy look we were going for!

The new color is Behr Malaysian Mist.


do it yourself
Want more DIY's?