DIY coastal inspired napkin holder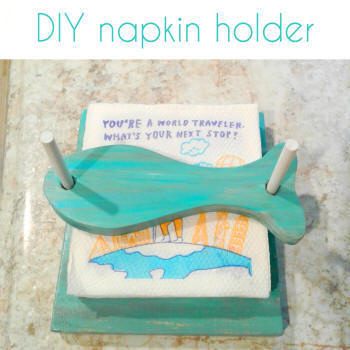 * This post may contain affiliate links

I have had the same, typical napkin holder since we bought our first home 15+ years ago. I needed one, I bought one and it's just always been with us to hold our napkins.

When we remodeled our kitchen and I kind of "started over" with the decor in there that ugly napkin holder had to go! I was unable to find one I liked anywhere so - time to DIY!




Does mine look similar to yours? Mine started as black, was white and was most recenty silver. Now it's at the local thrift store ;)

What you'll need:

some wood (I used 1" thick boards that I had left over)
a jig saw
3/8" wood dowel

drill
3/8" drill bit
and 1/2" drill bit or drill bit set

acrylic paints
clear acrylic sealer




Grab one of your napkins so you can trace out the bottom of your napkin holder. I used a straight edge and made my base about 1" wider for the dowels and about 1/2" bigger in height. Then trace out your fish shape. I just freehanded a basic fish shape making sure that the fish was long enough to fit around the dowels.




Use your

jig saw
to cut out your base and your fish shape. Place a napkin on your base and mark the spots for your dowels to go keeping in mind the width of your dowel and the width of your napkins. I measured the space from dot to dot and marked out matching spots on the top of my fish.

When you have those spots marked, use your 1/2" drill bit
to drill a hole completely through the fish. One the base of your napkin holder, use your 3/8" drill bit
to drill a hole on your dowel marks, but these holes do not go all the way through the wood - only about halfway down and then the dowel will get glued in place.

Don't forget to cut your 3/8" dowels
to size. I cut mine to about 4" each. When you have everything cut out and drilled out, use some sandpaper or a sander to smooth all your edges.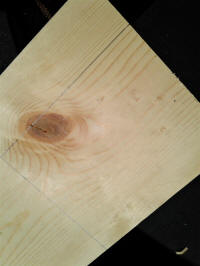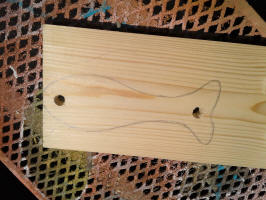 Now it's time to paint them! I wanted to give mine a more textured look as well as so I used some blue, gray and white to paint mine. I put a few drops of each color on the wood, wet down my paint brush real well and then just blended the colors together. it turned out perfect! I also painted my dowels white.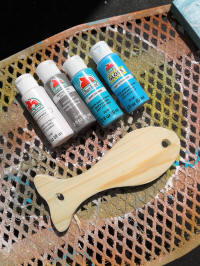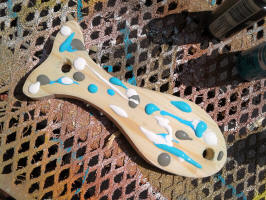 Once your fish and base are completely dry you can glue your dowels into your base. Add a little glue inside the hole and push the dowel in place. You can also place your fish over the dowels to make sure that they are straight and in place. Then, evenly coat your project with a clear acrylic sealer
to protect the project and the paint job.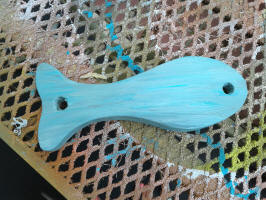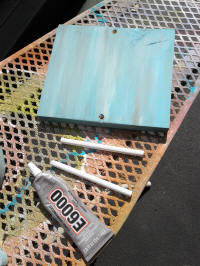 When it's completely dry you can assemble it and use it. It looks so much better than that ugly musical note napkin holder!



do it yourself
Want more DIY's?