DIY beach inspired mancala board game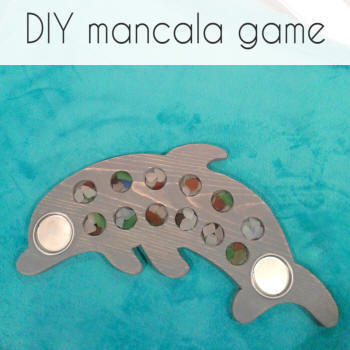 * This post may contain affiliate links

This is one of my favorite DIY's that I have done. Seriously. It has gotten so much use and is something everyone in the family uses and even our guests!

I never knew how to even play this game until my 10 year old came home from school and showed me how one day. We didn't have a mancala game, so he just used an egg carton and crumpled up pieces of paper to show me how to play. When we realized how fun it was we had to make our own instead of going to buy one ;)

We knew we wanted it beach themed and we wanted to use some of the sea glass we found at the beach in place of the marbles/stones. I love how it turned out!

What you'll need:

jig saw

Piece of wood. Mine was 1"x8"x18" and I used the full length and width of it


(2)

2 1/8" sliding door pulls

1 1/4" circular drill bit
2 1/8" hole saw drill bit
(this is the standard door knob cut out size)
sand paper
Classic Gray stain

48 pieces of sea glass (or mini seashells, marbles, etc)

Start by sketching out your shape. I found a shape of a dolphin online and printed it off. Then I used my projector to enlarge the image and then redrew some of the areas so that it would fit nicely within the width of my wood. Keep in mind that you need a big circle on each end plus 12 circles (6 on each side) in between. Just take your time and make it all work out. It took me about an hour just to get my sketch right.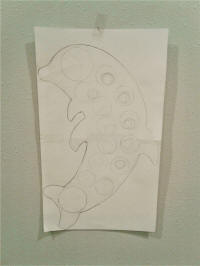 Once you have settled on your sketch, cut out the outline, trace it on your wood and cut it out with your jig saw
. When you have your shape cut out, you can sand it down good all all the edges and in between all the smaller cuts.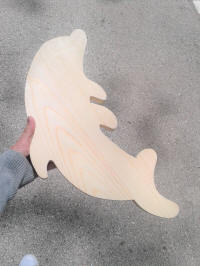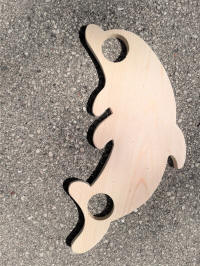 Now it's time for your circular drill bits. I did the big ends first with the 2 1/8" hole saw drill bit
to make sure I could evenly space out the holes on the inside. When you are ready to drill out your smaller holes, make sure you have calculated and recalculated your dimensions to make sure all 6 holes will fit nicely. It's hard to tell from the photo, but I made little dots to mark the center of each hole so I knew exactly where to drill.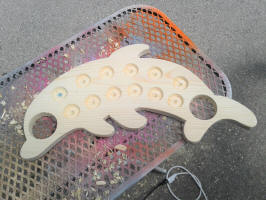 Once all those holes are drilled, sand down the inside edges of each circle. If you are having a hard time getting those insides sanded, you can use a dremel with a sanding attachment and use that to sand them down. Use some E6000 glue to glue in your door pulls
in the end two holes. They will serve as the larger basket for your game. Then it's time to add your stain. We love the Classic Gray stain
! It makes the wood look perfectly older and sort of like driftwood. We gave him 2 coats of stain and then when it was dry we gave him a light sanding to make him look a little worn. It was perfect!





Then add your sea glass or mini seashells and you're ready to play! We keep him on our coffee table so he's always ready for a game.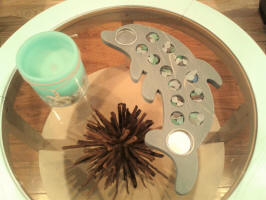 do it yourself
Want more DIY's?