Lotion bars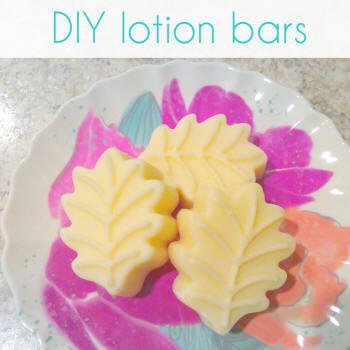 * This post may contain affiliate links.
With the cold dry weather arriving, we can't seem to have enough lotion in our house. The problem was that once your hands get so dry and cracked, some lotions have too many chemicals and perfumes in them that they actually feel like they are burning your hands.

These lotion bars are great and with their natural ingredients they feel great on your hands.



What you need:

2/3 cup beeswax

1/2 cup sunflower oil (or your favorite oil)
essential oil of your choice
- I love lavender for something like this!
pot for melting your mixture
silicone molds
(you can use plastic molds or silicone molds - once hard they pop out easily out of both)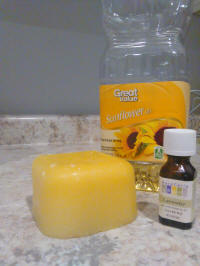 Now depending on where you live and how you like your lotion bar, you may want to adjust your measurements a bit. The more beeswax you add the firmer it will be. The good thing is, if you make yours and decide it's too firm or too soft, you can remelt them all and then add more beeswax or more oil to get it to your liking.

On low heat, melt down your beeswax to a liquid. Once it has melted completely, add in your oil and stir until it is blended. Let it cool down a bit and then add in your essential oils. I added about 15 drops for this mixture amount.

Then pour your mixture into your molds. This amount of mixture would make all six leaves, plus maybe 1-2 more. But I used additional molds that aren't pictured.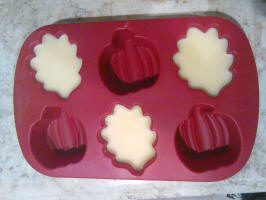 Let them sit and cool a bit. Once I had them poured into the molds and as they started to cool, I wanted mine to be scented a bit more, so I added about 2 more drops of my lavender oil to each mold.



Depending on where you live, these usually set up within an hour or two. Make sure they have completely hardened before you remove them from their molds.

Now you can wrap them up and give them as gifts or start using them yourself. All you do is take your lotion bar and rub it on your dry spots. Next time I make these I will probably add a bit more sunflower oil to make them a bit softer. It could be because I live in a cold climate, so you will have to see how yours work for you.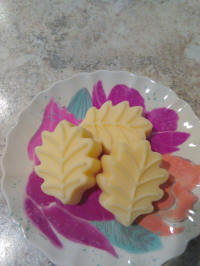 Happy soft and smooth hands!


do it yourself
Want more DIY's?