Repurpose an old metal garbage can into dog food storage




* This post may contain affiliate links.

I can not stand a bag of dog food sitting around the house. I like to keep it in some kind of covered container, but in our kitchen I didn't have many options of where to store it conveniently. Sure, I could put it in the basement, but I don't want to run to the basement 2 times a day just for the food.

And part of the problem is my dogs. I have 2 newfoundlands that eat A LOT of food, so storing just a few cups of food in a small container is not at all convenient for our family.



My mother-in-law found me this great metal garbage can at our local Goodwill and I knew this would make the perfect solution.

What you need:

a metal garbage can
a can of spray paint

This is an easy DIY - just paint your can! I knew exactly where I was going to be storing the can, so I choose a color that would nicely blend in with our decor, yet not stick out too much.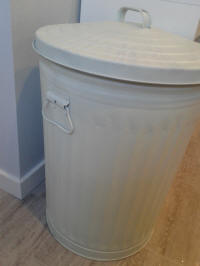 Paint up the outside only of your can so that you don't have your spray paint inside where the dog food is stored.

Wait for your paint to dry completely before adding your dog food to the container.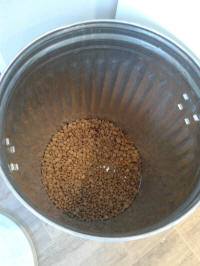 This is one of my favorite DIY's because most people don't even notice it because it blends in so nice as some neat decor and when I point it out nobody believes me that it stores dog food! Looks like I need more dog food.

To fancy yours up a bit, you could even stencil on your dogs name or initials or paint "dog food" on it.


do it yourself
Want more DIY's?