Dipped Peeps




* This post may contain affiliate links

I'm not the biggest fan of these little guys. However, I have always hated boiling and coloring eggs for easter. I could never get them boiled right, then we ended up staining everything, and then we were left with a few dozen hard boiled eggs to eat. And I can only eat so much egg salad.

So in order to get out of coloring easter eggs I needed to come up with a new tradition for the kids to do. And this is perfect! Easy to do and very easy to clean up after.



What you need:

peeps
white melting chocolate (I used chips)
sprinkles, sugars, etc
a glass for melting chocolate
wax paper for laying your peeps on

Seperate all your peeps. It's much easier to grab if they are already pulled apart.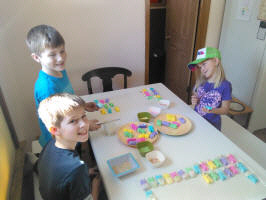 To make it easy I divided up the kids and divided up the "stuff". Put the peeps on a plate and then lay out some wax paper for the peeps to harden on. I put each kind of sprinkle in it's own bowl. This way the kids could sprinkle it on the peep and the excess could fall right back into the bowl.

Melt your chocolate according to the package directions.



Let's dip! You can either dip your peep right into the glass or you can spread some melted chocolate on with a knife. We did both ways, so do what works best for you. Then sprinkle on your sprinkles. Once they are covered to your satisfaction, lay them onto the wax paper and let the chocolate harden back up.

Once the chocolate is hard, store them in airtight containers. Alternatively, you can wrap up half of them and put them into containers and give them away because really, who wants to eat that many?!


do it yourself
Want more DIY's?