Decorate inside your unused fireplace




* This post may contain affiliate links

We have a (now) gorgeous fireplace in our home. Unfortunately, we don't use it as a fireplace. Mostly because of our furry kids. I have 2 very large newfoundlands with big fluffy tails that I am EXTREMELY nervous about near an open flame, especially when they decide it's play time. So to keep everyone safe, we decided not to use it to burn wood.

But I still wanted to have a pretty fireplace. I've had candles in it, I've had flowers in it, but it just wasn't "right".

Until now!


I had a beautiful tin just sitting in a closet that I gave a fresh coat of spray paint too. Once it was dry I filled it up with some similarly sized pieces of driftwood. We live near Lake Michigan so it's quite easy for us to find driftwood. You could use any type of sticks, logs, whatever you can find. Even your local home improvement store likely carries a small bundle of wood that you can buy.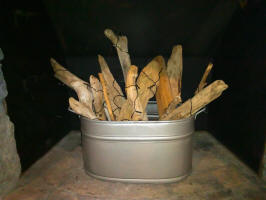 Then I bought a battery powered set of 50 mini lights in warm white and strung my lights all around the wood and hid the battery pack inside the tin.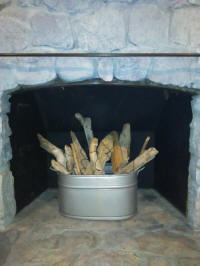 Isn't it beautiful?! At night, it actually feels like a nice, warm fire is going in the fireplace.


do it yourself
Want more DIY's?