Coffee table redo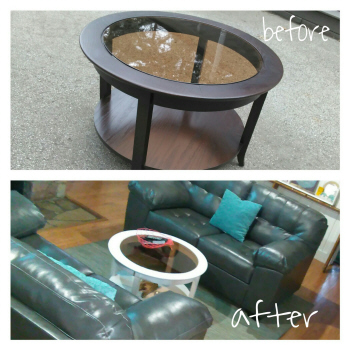 * This post may contain affiliate links.

How many of you have a coffee table you hate? The one that doesn't match, but you just hate to get rid of a decent table. I did. I am always getting bored with furniture and my decor fast, but I can never get rid of a piece of furniture - you never know when you'll want it back.

I had this guy. He was in perfect shape, but the wood was way too dark for our new house and the color scheme we chose.

Guess who's getting a makeover?!

You will need:

a sad coffee table
sand paper
an extra coverage spray paint

tarps, cardboard or old sheets to protect your surface from the paint



First, if your table has any hardware, remove it so that it doesn't accidentally get sanded or painted.




Give your table a good sanding down to rough up the surface a bit so that the paint will adhere better.



Then spray paint it. Make sure to let it dry completely before you put it to use.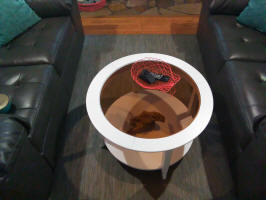 do it yourself
Want more DIY's?