Cactus coasters




* This post may contain affiliate links

After living in the desert for a few years and being back in the midwest I am really missing the landscape out there......and the beautiful weather!

I loved having succulents all over the yard and especially miss growing cactus so this drink coaster DIY was the perfect way to have my cactus in Wisconsin and not worrying about killling it.

What you'll need:

1/2 wood (I used leftover plywood)
jig saw

acrylic paint
clear acrylic spray sealer

a small pot or dish
artificial spanish moss

hot glue gun and glue

Start by using a glass and tracing 7 circles onto your wood. Make sure your wood is large enough to fit underneath your commonly used glasses.






Then use your jig saw to cut out all of your circles. I cut out a few extras just in case I messed something up along the way.




Then you need to cut the notches out of each cactus pad. One pad needs to look like the one above. I cut it just over a 1/2" in wide and about 1/2" away from each side. This is going to be the bottom part that will fit inside your pot/bowl and the part that the rest of your cactus rests in.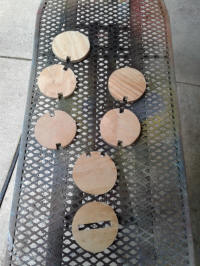 Then you need to cut the notches out of each pad. Each notch is 1/2" thick, just wide enough to fit another pad inside of it. 3 of the pads will need to have more than one notch. If you look at the picture above you can see where I placed each notch. When you have all your notches cut, give everything a good sanding.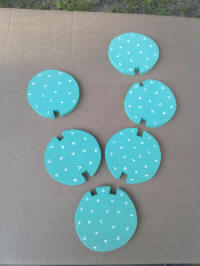 Then it's time to paint everything. I painted both sides of my cactus green and then added little white "v's" to the pads to look like the prickers on a cactus. When all the cactus pads were painted, I gave them a good coat of clear acrylic spray sealer.

Then get your base ready. Use hot glue to attach your base pad in place inside your pot or bowl. Use some hot glue around the edge and glue on your spanish moss.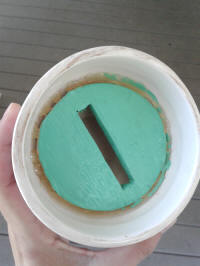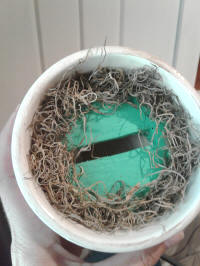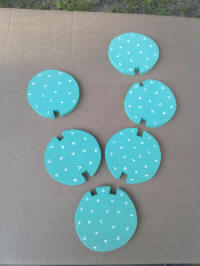 Then it's time to put all your pieces together to form your cactus.

Isn't it adorable?!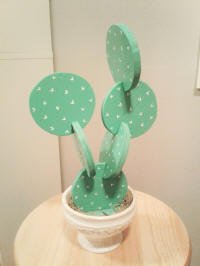 do it yourself
Want more DIY's?