Recycled outdoor patio table set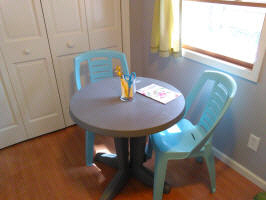 * This post may contain affiliate links.

We had this little plastic bistro set for many years. It really wasn't used - the table was small and there were only two chairs, but I hated to get rid of it since it was in such good shape, just ugly. So it sat in the garage.....lonely.....for quite a few years. Until we bought this new house. We have this bedroom/office/den space right off the living room that we were converting into an office and this would be perfect for the little DIYers in my family!

I pulled out my little bistro set and got ready to paint.



You will need:

a plastic bistro set

tarp / old sheets / cardboard to paint on
spray paint

Make sure your table and/or chairs are washed and dried completely. If yours are metal, use some sandpaper to smooth out and remove the dried, flaking paint.



Paint away! Use your imagination. Use some fun colors or colors to match your decor. You can use all one color or different colors on every piece.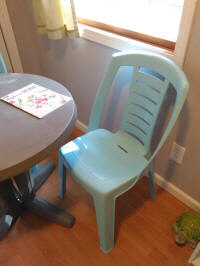 The paint has held up perfectly, but we do keep them outside. I'm sure depending on where you live and if you keep them outside this will vary greatly. To keep the paint looking it's best, keep them indoors in winter if you live where it snows and keep them on a covered patio if you live in a sunny climate.


do it yourself